A New Way of Thinking About
Municipal Infrastructure Has the Attention of the Local Government World
No longer is asset management only about hard engineered assets – watermains, sewers, roads. Watershed systems are also "infrastructure assets".
Already facing a $200 billion challenge for renewal of hard infrastructure, Asset Management for Sustainable Service Delivery: A BC Framework provides a financial driver for local governments in British Columbia to integrate a whole-system, water balance approach and climate adaptation into asset management.
The BC Framework sets a strategic direction that would refocus business processes on outcomes that reduce life-cycle costs and risks. Use less water. Mimic natural flows in streams. Preserve the natural pathways by which water reaches streams. Slow, spread and absorb runoff. Benefits include less flooding, less stream erosion, more streamflow when needed most.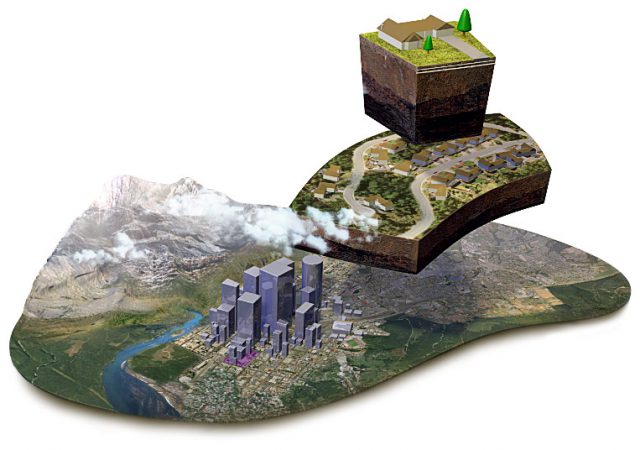 Water Balance Family of Tools + External Resources
Inter-governmental collaboration and funding enable the Partnership for Sustainability in British Columbia to collaborate with others to develop (and share) approaches, tools and resources; as well as provide teaching, training and mentoring.
The educational goal of the Partnership for Water Sustainability in British Columbia is to build practitioner capacity within the local government setting to implement a whole-system, water balance approach branded as Sustainable Watershed Systems, through Asset Management.
Comprehensive and coordinated use of the decision support tools and calculators listed below, which includes calculators developed by others (i.e. the bottom four), would help communities achieve this desired outcome.
TOOLS
CALCULATORS
Everyone Learns from Stories!
The waterbucket.ca website celebrates and showcases
good work by those leading change.

Local Government Partners & Organizations
are excited about our Modeling Tools
"The Water Balance Express is an example of how science can be translated into a meaningful form to help inform non-scientists on how to contribute to positive change."

— Julie Wilson, Academic Coordinator & Instructor, Master of Land & Water Systems Program, University of British Columbia

"The Express has absolutely awesome potential at the time of new subdivision reviews as well as for infilling properties that want more housing structures (Housing Choices) within small lots."

— Margaret Birch, Environmental Services Coordinator, Environmental Services Division, Engineering & Public Works Department, City of Coquitlam

"It's great to see this proactive approach. I really like the 'no nonsense, let's get this problem solved attitude'. It's very refreshing."

— Peter McDonagh, Director of Design + Science, Kestrel Design Group (Minneapolis, Minnesota)