The Water Balance Model Desktop is the enhanced interface for the QUALYHMO engine. It provides the expert user with access to a broader set of functions (commands) than are exposed / available to users of the Water Balance Model Online. This means the expert user has more control over the model setup. In turn, this enables advanced problem-solving.
Having this expanded capability enables the expert user to better utilize the power of QUALHYMO, as a decision support tool, to establish watershed goals and undertake advanced water balance assessments. The enhanced interface is available for download.
Online versus Desktop Versions?
The Water Balance Model Online is the original web-based decision tool developed in 2003 by an inter-governmental partnership. Users can adjust only 3 of the 40 commands in the QUALHYMO engine. The rest of the commands are pre-set with default values.
The user interface is friendly. The Water Balance Model Online makes it easy for land use and watershed planners to test and learn from their assumptions when developing soil-based 'green' solutions that slow, spread and absorb (sink) rainwater runoff.
The Water Balance Model Desktop is a downloadable advanced user interface for the QUALHYMO engine. Experienced users can adjust one-third (1/3) of the 40 commands in QUALHYMO!
The Desktop gives the user more responsibility to drive the QUALHYMO engine. This means the user must have advanced expertise in hydrology, complemented by a good understanding and working knowledge of watershed management principles and practices.
Feature Comparison
Category
Feature Set
WBM Online
WBM Desktop
APPLICATIONS
Watershed level planning - comparing BMP and rainwater management strategies
Residential lot planning - evaluating what kinds of BMPs to use, and how to place them.
Ad hoc analysis of runoff quality/quantity with/without BMPs and receiving streams.
Establish watershed targets and detailed design of strategy implementation
COMPUTATIONAL SCOPE
Flexible configuration to many alternative situations devised by user.
Water quantity simulation capable
Water quality simulation capable
DATA SOURCES
Includes preconfigured rain, temperature, evapotranspiration
Allows user defined rain, temperature, evapotranspiration
Allows arbitrary series length and time step
Allows user to determine land surface and tree canopy parameters
User configurable to any Canadian, US, or world-wide hydrologic region
USER SKILL SET
Must have advanced expertise in hydrology and source-control performance
Sustainable Watershed Systems, through Asset Management
Use of the Water Balance Model Desktop would facilitate application of the Water Balance Methodology (WBM) to establish watershed-specific performance targets. In turn, this would support application of the Ecological Accounting Protocol (EAP). These are the twin pillars of the whole-system, water balance approach as it is being proven out in British Columbia through demonstration applications.
The appeal of this advanced problem-solving capability is that the process for applying it would help communities create a vision of the desired future water balance for a watershed, and the steps to achieve it. Process outcomes would then inform and influence standards of practice for land use and infrastructure servicing that would achieve 'design with nature' outcomes.

Water Balance Methodology
Managing urban watersheds as an integrated Water Balance system – three flows, each with a different time scale – requires that performance targets be determined by means of verifiable calculations. Only then can mitigation measures be analyzed and optimized for cost and effectiveness.
Land development changes the water balance proportions.  This has consequences for stream health. The Water Balance Methodology addresses the alterations to the land surface and its land use while providing solutions that would maintain stream health within a developed watershed.
As understanding has grown, the Water Balance Methodology has evolved. It is now a synthesis of watershed hydrology and stream dynamics. It integrates proven scientific and engineering principles in a logical and straightforward way to produce verifiable calculations. The Water Balance Methodology provides drainage engineers with the capability to quantify impacts on watershed hydrology and the benefits of replicating water balance pathways.
Ecological Accounting Protocol
The Ecological Accounting Protocol for valuing watersheds as infrastructure assets deals with the monetary value of renewable services provided by natural assets. Under the EAP framework, the reference to natural assets means ecosystems of watersheds. The EAP methodology focuses on drainage and water balance services.
Watershed-wide implementation of performance targets would result in optimum infrastructure design and optimum opportunity cost. Practitioners would apply EAP to answer engineering and economic questions.
A Focus on Solutions:
"An outcome that we are really trying to push for is the ability to interpret results, and the ability to represent the cases that we are actually trying to solve.
"And after that, we need to pick our tools and solutions simply because they will solve that process.
"With the Water Balance Model, we have a tool in a platform that is designed to do just that."
Charles Rowney, Ph.D., Scientific Authority
Partnership for Water Sustainability in BC
Water Balance Methodology: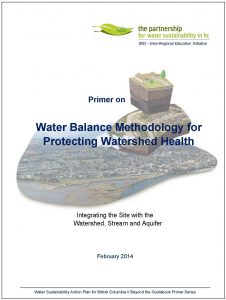 Download Primer on Water Balance Methodology for Protecting Watershed Health